Ground floor: Living / dining room. Well-equipped half open kitchen. Toilet. Veranda.
First floor: Double bedroom with walk-in wardrobe and shower room.
Heating: Wood stove in the living room.
Amenities: Shared swimming pool, private terrace with fixed barbecue anf fire place, pool shower, TV, wi-fi Internet, dvd-player, micro-wave oven, washing machine, private parking.
Quinta Cercas da Costa is a small former farm with two holiday cottages. Casa da Eira is a former barn converted into a nice and comfortable holiday accommodation. Partly put up in granite, with a top floor in wood and a facade almost completely in glass, this cottage has great views from all the rooms. The cottage is modern, but cosy and completely furnished, offering everything for an enjoyable stay.
The second house (the red one on the photos) is also for rent. This cottage can accommodate 4 persons, who will share the garden and the swimming pool.
More information about Casa das Eiras.
The garden and the rest of the grounds slope down in terraces, thus offering great and uninterrupted views from the veranda and the pool area over the Rio Ave valley. In the garden are also several sitting areas, a small pond, and places to put up a hammock.
In the neighbourhood are good opportunities for walking, for instance from the nearby hamlet of Lamedo along the watermills of the Rio Ave to the ancient village of Agra.
At the Ermal reservoir (6 km) are canoes and pedaloes for hire, there are nice places to swim, and also a facility for cable-waterskiing called Tele-Ski.
More possibilities for watersports are to be found at the large reservoir of Caniçada (20 km), at the foot of the impressive national park Peneda-Gerês. There are canoes, jet-skis, pedal boats and motor boats for rent and you can also learn to waterski.
In nearby Rossas (6 km) are a butcher, a baker, a mini mercado (a small grocery shop), a pharmacy and a couple of cafés.
More choice is to be found in the small town of Vieira do Minho (12 km); supermarkets, banks, the post office, restaurants, a health care centre, pastelarias, and a large weekly market. The nearest restaurant is in Anjos (2 km).
The distance to the city of Braga is about 44 km, and to Guimarães (Unesco World Heritage) 40 km.
The minimum stay in the high season is 1 week, in the low season 3 days.
Cleaning is included, once a week starting 2nd week.
Pets are not allowed.
Indoors smoking not allowed.
Not suitable for wheel chairs.
Prices include: see page Terms and Conditions.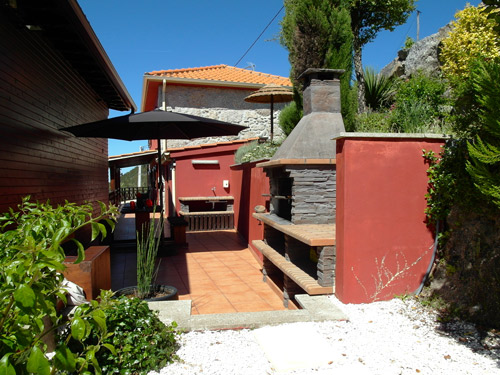 To book this house or for further enquiries, please use the enquiry form below.
Alternatively you can contact us at:
Email:  info@casas-da-cabreira.com
Telephone:  (+351) 934 825 227
Information on the way we work
Booking
To book one of our properties simply send us an e-mail with the following details:
Your full name, address and mobile telephone number;
The name of the property of your choice;
The period (date of arrival and date of departure);
The number of people (adults and children, plus ages of the children);
The number of rooms (if applicable);
Additional information, such as the use of a cot.
We will send you thereupon by e-mail a confirmation with directions for payment. At request we will send you a written confirmation by mail as well.
The deposit
Payments can be made in Euros by an international bank transfer. You can also pay through Paypal, in which case we will make a 2% charge as a contribution to the costs incurred.
As soon as we receive your down payment, we will send you a confirmation by e-mail, including detailed directions to the property.
Confirmation
As soon as we receive the balance of the payment, we will send you a confirmation by e-mail. In this message we will ask you to let us know – not later than 2 days in advance – the time of arrival, so we or the owner can be on time to welcome you and hand over the keys.

The day of your arrival
On the day of your arrival we or the owner will be at the property at the time you agreed upon. If you expect to arrive later, for instance because your flight is delayed, please let us know as soon as possible.
If we ourselves cannot be at the property on the day or time of your arrival, we will try to come by one of the following days. Of course you won't need to stay in, waiting for us, so if we don't meet and you do have questions, don't hesitate to call us.
Information on shops , restaurants, sight seeing…
For all our properties detailed information is available on shops, restaurants, wine, sight seeing, but also on hospitals, pharmacies, banks, etc. In some cases you will find the information in the house, in other cases we will send it to you together with the confirmation of the payment of the balance.
Afterwards: your opinion?
It is your holiday, so we won't bother you with a long questionnaire. But we would greatly appreciate if you could send us an e-mail afterwards, telling us what you thought of the organization and the property.