Main house
Ground floor: Large dining room. Main kitchen. Games room with snooker and card table.
First floor: Living room with open fireplace. Second dining room. Kitchenette (suitable for light meals). 3 Double bedrooms; each with ensuite bathroom, TV and airconditioning. Large veranda.
Converted granary
Ground floor: Shower and toilets.
First floor: 2 Twin bedrooms, one with 2 double beds and one with 2 single beds, and both with ensuite bathroom, TV and air conditioning.
General
Heating: Central heating.
Amenities: Private swimming pool (fenced for toddlers), large garden, TV with dvd-player, games room, barbecue, dishwasher, washing machine, wi-fi Internet, private parking, cot (at request).
Casa de Alfena is situated in Travassos, a traditional gold filigree workshop-village. For centuries families have been making jewelry and even today several workshops remain active. The manor house stands next to one of those workshops, which was converted into a small but fine museum. Here you'll find tools and beautiful examples of the art of goldsmithery, meticulously collected by the owner.
The main house has been tastefully redecorated, preserving many ancient details, especially in the former kitchen and the adjoining dining room. There are two dining rooms, a large living room, where you can enjoy a quiet conversation or read a book, and three double rooms with private bathroom. On the ground floor are the main kitchen, the big dining room and a games room with billiard and card table.
The first floor of the former granery has been converted into two comfortable twin rooms, each with a private bathroom and overlooking the gardens. On the ground floor there are toilets and showers for those using the swimming pool.
Behind the main house is a lovely terraced garden, with spacious lawns and shady trees, and a large patio next to the swimming pool.
Casa de Alfena can be rented as a whole (main house + former granery, sleeps 10). During the Mid and Low season you can also rent only the main house (6 people). In this case the rooms in the former granary will not be let to others. Meaning in both cases you will have the sole use of the gardens, the pool etc.
In Travassos is e café and a small grocery shop. The nearest town is Póvoa de Lanhoso (8 km, all facilities), with a lively centre, a choice of restaurants and a large weekly market. Worth visiting are the 12th century castle, and a restored castro (prehistoric settlement).
The city of Braga and the National park Peneda-Gerês are about 25 kms away, the distance to Guimarães (Unesco World Heritage) is 20 km.
The minimum stay in the Mid and high season is 1 week, in the rest of the year 4 days.
The day price for each extra day from the 2nd week = week price / 7 (only in low and mid – season).
Weekly cleaning is included.
The security deposit is € 300.
Pets are not allowed.
Indoors smoking is not allowed.
Not suitable for wheel chairs.
Prices include: see page Terms and conditions.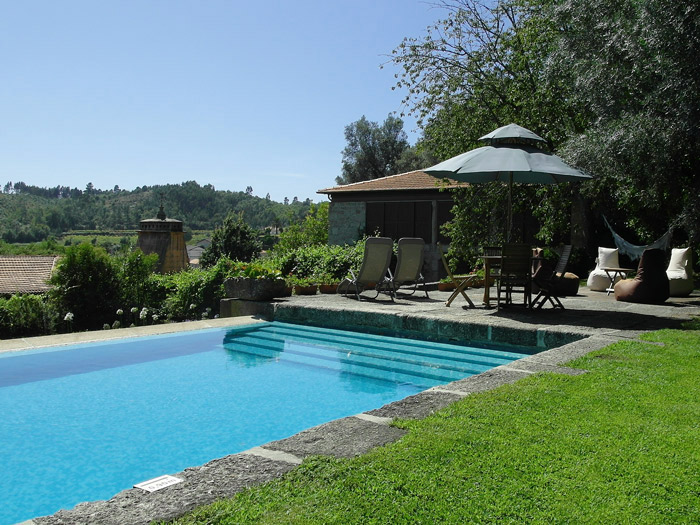 To book this house or for further enquiries, please use the enquiry form below.
Alternatively you can contact us at:
Email:  info@casas-da-cabreira.com
Telephone:  (+351) 934 825 227
Information on the way we work
Booking
To book one of our properties simply send us an e-mail with the following details:
Your full name, address and mobile telephone number;
The name of the property of your choice;
The period (date of arrival and date of departure);
The number of people (adults and children, plus ages of the children);
The number of rooms (if applicable);
Additional information, such as the use of a cot.
We will send you thereupon by e-mail a confirmation with directions for payment. At request we will send you a written confirmation by mail as well.
The deposit
Payments can be made in Euros by an international bank transfer. You can also pay through Paypal, in which case we will make a 2% charge as a contribution to the costs incurred.
As soon as we receive your down payment, we will send you a confirmation by e-mail, including detailed directions to the property.
Confirmation
As soon as we receive the balance of the payment, we will send you a confirmation by e-mail. In this message we will ask you to let us know – not later than 2 days in advance – the time of arrival, so we or the owner can be on time to welcome you and hand over the keys.

The day of your arrival
On the day of your arrival we or the owner will be at the property at the time you agreed upon. If you expect to arrive later, for instance because your flight is delayed, please let us know as soon as possible.
If we ourselves cannot be at the property on the day or time of your arrival, we will try to come by one of the following days. Of course you won't need to stay in, waiting for us, so if we don't meet and you do have questions, don't hesitate to call us.
Information on shops , restaurants, sight seeing…
For all our properties detailed information is available on shops, restaurants, wine, sight seeing, but also on hospitals, pharmacies, banks, etc. In some cases you will find the information in the house, in other cases we will send it to you together with the confirmation of the payment of the balance.
Afterwards: your opinion?
It is your holiday, so we won't bother you with a long questionnaire. But we would greatly appreciate if you could send us an e-mail afterwards, telling us what you thought of the organization and the property.