Porto elected European Best Destination 2017
"Porto is exceptional. In more ways than one. Elected Best European Destination 2017 by the european citizens, Porto, the "Cidade Invicta" (unvanquished city) is history, is architecture, culture, gastronomy, trade, encounters and discoveries. See More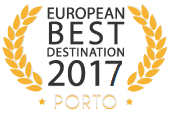 North Portugal, the Serra da Cabreira
In the eastern part of the Minho province, also known as Costa Verde, and situated along the border with Trás-os-Montes, Serra da Cabreira you will find the Serra da Cabreira (Mountains of the Goat Shepherdess). This is an old, granite, low mountain range with steep valleys and clear mountain streams and rounded peaks, the highest 1262 metres.
In the west and south are the towns of Vieira do Minho and Cabeceiras de Basto, surrounded by smaller villages, some of which only just entered modern times. In the village square near the public fountain there's a plaque to commemorate the recent opening of the tarmac road.
The people have lived for centuries on the basis of subsistence and small-scale farming. Twice a day three or four cows with big horns are led from the village to the fields. The harvest is kept in espigueiros (the local name is canastros), narrow, granite-built sheds on legs that are a characteristic feature of the Minho.
All fields, meadows and yards are bordered with high climbing vines, which produce a red wine with a high tannin content. This wine is mainly for home use. Professional growers however produce a very good sparkling white vinho verde. In the sub-region called Terras de Basto (including Cabeceiras, Celorico and Mondim de Basto) and the municipality of Póvoa de Lanhoso are some renowned wine growers who export an important part of their yield.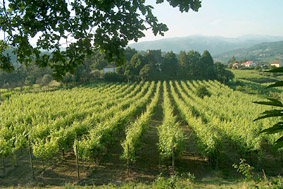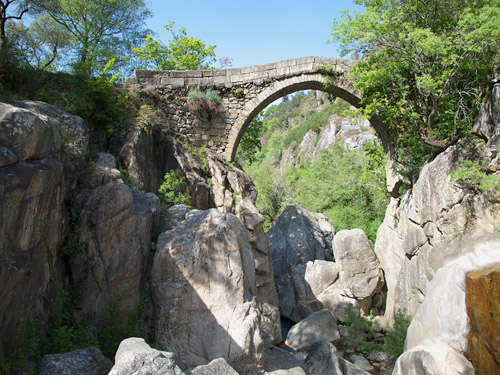 Cabeceiras de Basto and Vieira do Minho, and also their neighbouring towns like Póvoa de Lanhoso, Fafe and Terras de Bouro, hold on firmly to their traditions, such as the annual procession. Yet, time hasn't stopped there. You will find banks with cash dispensers, a post office, an Internet café, a tourist office, a healthcare centre and all kinds of shops, cafés, restaurants and of course pastelarias. The weekly markets are nice to visit, they are very lively and offer a wide variety of goods.
In Cabeceiras de Basto the former monastery with baroque church also merits a visit. In the municipality of Vieira do Minho you can find a spectacularly situated medieval bridge and a chapel built under a huge boulder. Agra, halfway Cabeceiras and Viera, is one of the best preserved villages in the region. The main attraction of Póvoa de Lanhoso is the 12th century castle. The nearby village of Travassos is famous for its gold filigree workshops. Mondim has a nice old centre with narrow, winding streets, where the views are dominated by the Senhora da Graça, a cone shaped mountain, named after the pilgrims church on top.
The region is a paradise for walks and hikes. Between villages and fields are lots of old roads, lanes and paths, some no longer in use after the rise of the car. In several places you can see deep marks in the stone, ground away over the years by the wheels of ox-carts. In the Serra's you can walk for hours without meeting anyone, except maybe a shepherd with his sheep and goats or a small herd of garranos (semi-wild horses). In addition you can find stone shelters some centuries old or arte rupestre (rupestral art) from before our time.
You need to be in good condition and have a multi-geared mountain bike, but then the Serra da Cabreira is also very good terrain for cycling tours.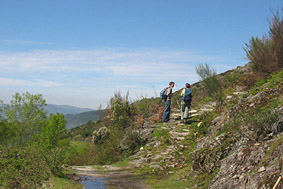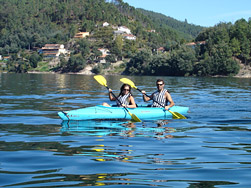 Swimming is possible in many places, Caniçada for instance in the reservoir of Ermal or in one of the small rivers. Some villages have a praia fluvial, an enclosed part of a river with picnic facilities or a bar. The large reservoir of Caniçada, situated between the Serra da Cabreira and the Serra do Gerês to the North, has all kinds of water sports.
Those who love outdoor sports like rope sliding, rafting, paintball etc., can exert themselves at the Diver Lanhoso and Pena Aventura outdoor parks.
The Gerês mountains, which form the southern part of the impressive Peneda-Gerês national park, are also a great area for hiking and for safari trips with a Land Rover.
A bit further away, but all within reach for a day-trip, there is also a lot to see. For instance:
Porto airport & Car hire
There are direct flights with Ryanair to the airport of Porto from London Stansted, Liverpool and Dublin, and with Easyjet, and British Airways from London Gatwick.
The drive from the airport to most properties takes about 1 to 1½ hours. A fly-drive is a good option since you only need to bring your personal luggage. At the airport are branches of most major and several local car hire companies, but to avoid disappointment it is best to book the car well in advance at your local travel agency or online. For those wishing to use public transports, GetBus has direct shuttle services from the airport to the cities of Braga and Guimarães.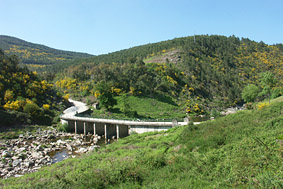 By car
From Spain it is best to drive via Burgos, Leon and Benavente to Orense. On the motorway A52 to Orense take exit 160 near Verín to Portugal. This road leads to Chaves.
If your destination is Vieira do Minho, Terras de Bouro or Póvoa de Lanhoso, go from Chaves along the N103 in the direction of Braga. The exits to Vieira and Póvoa are on the left, and to Terras de Bouro and the lake Caniçada on the right.
For the municipalities that are situated a bit more to the South, take the new motorway A24 from the spanish border in the direction Vila Real, and then head along the A7 for Cabeceiras de Basto, Fafe, Guimarães and Esposende.
If you rent a villa or a cottage you will get detailed directions to your destination.
Maps and guides
There are several good general maps of Portugal, like Michelin (1:400.000) or Falk Easy Driver (1:300.000). In Portugal you can buy a good tourist map (scale 1:200.000) of the Minho, published by ForWays.
In 1997-99 all 1:25,000 scale topographic maps of the region were newly published by the IGE. In Portugal these maps are not easily found; only in Porto and Lisbon. Therefore it is best to order them well in advance in a specialist shop in your home country, or through us (see page Extras).
Weather and climate
In the winter and early spring (February, March) the evenings and the nights are cold, but during the day you'll often have a clear sky and sunshine. Temperatures will sometimes rise up to almost 20 degrees centigrade, ideal weather for walking and hiking. Except in the higher parts of the Serra's there is no snowfall to speak of.
The summers are warm, but not as hot as in the South.
North Portugal has a green countryside and that means rain, which mainly falls in spring and autumn. Be prepared for cold and warm, wet and dry weather at those times of the year.
Currency
Since 2002 the Euro is also in use in Portugal. Please bear in mind that the Portuguese generally only use notes up to € 50, and that the € 200 and € 500 notes may not be accepted everywhere.
Time
Portugal has the same time as the UK and Ireland. It is 1 hour earlier than in Spain and the rest of the continent.