Ground floor: Living-dining room with sofa bed and exit to the patio. Open kitchen with electric stove and oven.
1 Double bedroom. Bathroom. Patio with BBQ and outside table.
Heating: Airco in the bedroom and, electric fireplace in the leaving room.
Amenities: TV, wi-fi Internet, microwave oven, coffee machine, kettle, barbecue, cot (at request), Private Natural pool, pool shower.
Casa Monte da Veiga it's a beautiful bungalow recently renovated (2019), located in a rural and forested region.  It´s location is ideal for the ones who look for privacy and quietness.
The house is surrounded by a lawn with a sand box where kids can play. On one of the sides you have terrace with barbecue, overlooking the pool… the perfect place for outdoor meals; a fully biological swimming pool where the plants treat the water; There is also a panoramic deck where you can enjoy the sunrise and sunset and the beautiful surrounding views. 
In the garden you will find some herbs, as well as some types of fruits that can be harvested and used for your own consumption.
Just about 2km from the property there is a supermarket.  The baker stops (at request) by each morning. Village Póvoa de Lanhoso is only 5km away, here you will be able to find several cafés, restaurants, pastelarias, supermarkets and other shops, also banks, the post office, a hospital and weekly market.
It is a natural space, charming, with plenty of privacy, and its geographical position allows, in less than 30 minutes, to be in the Peneda-Gerês National Park, the Ermal and Caniçada reservoir and Diver Lanhoso, where you can enjoy from a wide range of extreme sports. It also allows you to be in the center of Braga (20km) and Guimarães (17 km) (Cradle of the Portuguese Nation and UNESCO World Heritage).
The minimum stay 3 days.
The day price for each extra day from the 2nd week = week price / 7
Pets are allowed ( at request)
Indoors smoking is not allowed.
Prices include: see page Terms and Conditions.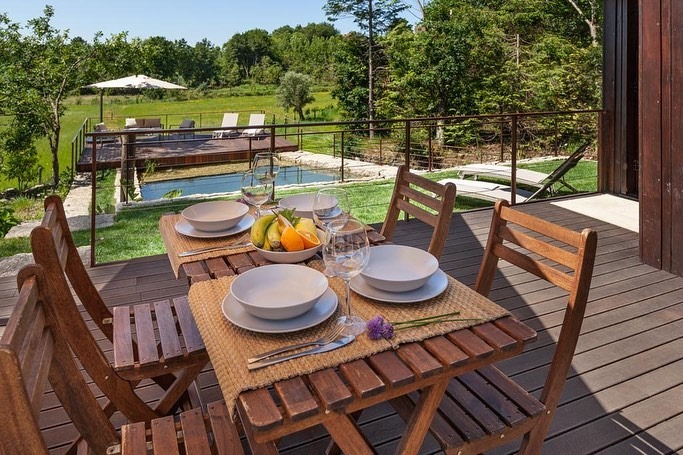 To book this house or for further enquiries, please use the enquiry form below.
Alternatively you can contact us at:
Email:  info@casas-da-cabreira.com
Telephone:  (+351) 934 825 227
Information on the way we work
Booking
To book one of our properties simply send us an e-mail with the following details:
Your full name, address and mobile telephone number;
The name of the property of your choice;
The period (date of arrival and date of departure);
The number of people (adults and children, plus ages of the children);
The number of rooms (if applicable);
Additional information, such as the use of a cot.
We will send you thereupon by e-mail a confirmation with directions for payment. At request we will send you a written confirmation by mail as well.
The deposit
Payments can be made in Euros by an international bank transfer. You can also pay through Paypal, in which case we will make a 2% charge as a contribution to the costs incurred.
As soon as we receive your down payment, we will send you a confirmation by e-mail, including detailed directions to the property.
Confirmation
As soon as we receive the balance of the payment, we will send you a confirmation by e-mail. In this message we will ask you to let us know – not later than 2 days in advance – the time of arrival, so we or the owner can be on time to welcome you and hand over the keys.
The day of your arrival
On the day of your arrival we or the owner will be at the property at the time you agreed upon. If you expect to arrive later, for instance because your flight is delayed, please let us know as soon as possible.
If we ourselves cannot be at the property on the day or time of your arrival, we will try to come by one of the following days. Of course you won't need to stay in, waiting for us, so if we don't meet and you do have questions, don't hesitate to call us.
Information on shops , restaurants, sight seeing…
For all our properties detailed information is available on shops, restaurants, wine, sight seeing, but also on hospitals, pharmacies, banks, etc. In some cases you will find the information in the house, in other cases we will send it to you together with the confirmation of the payment of the balance.
Afterwards: your opinion?
It is your holiday, so we won't bother you with a long questionnaire. But we would greatly appreciate if you could send us an e-mail afterwards, telling us what you thought of the organization and the property.