Casa das Azeitonas / Casa da Colmeia
Ground floor: 2 Twin bedrooms, each with en-suite bathroom.
First floor (accessible from the courtyard): Spacious living room. Fully fitted kitchen.
Heating: Central heating.
Amenities: TV with DVD-player, dishwasher, micro-wave oven, toaster. This two houses do not have air conditioning.
Casa do Forno
Ground floor: Fully fitted kitchen with table seating 4 and access to the private garden. Living room with couch/bed. 2 Bedrooms, 1 twin and 1 double, each with en-suite bathroom. The twin room is accessible through the private garden.
Heating: Central heating.
Amenities: TV with DVD-player, dishwasher, micro-wave oven, toaster, airco.
Casa da Borboleta
Ground floor: Spacious, well equipped kitchen. Dining room. Bathroom. Living room. Private patio with barbecue at the back.
First floor: 3 Bedrooms: 1 double with en-suite bathroom, 1 with bunk beds and more double bedroom. Shared bathroom. Reading room.
Heating: Central heating, with a woodburning stove in the living room.
Amenities: TV with DVD-player, dishwasher, micro-wave oven, toaster, airco.
General
Swimming pool (12 x 6 x 0.50–1.70m) with sun loungers, large garden, laundry service, barbecue, cot (at request), foldaway single bed (at request), games room with: wifi Internet, table tennis and mini-football.
Quinta de Penas is a former farm, standing up the valley of the Rio Cávado, in an area that is known for its good quality vinho verde. The quinta itself also used to grow grapes.
The farmhouse, working house, barns and stables are sitting around an attractive inner courtyard, and are carefully restored. The property now consists of 4 houses: Casa das Azeitonas, Casa da Colmeia, Casa do Forno and Casa da Borboleta, plus a few outbuildings.
Through the courtyard you come into the large, landscaped garden with a lawn, some ancient orange and olive trees and the swimming pool with sun terrace. There is ample room for anyone to play, soak up the sun or read a book in a shady tranquil spot.
Casa das Azeitonas and Casa da Colmeia, named after the olives and the honey the quinta used to be famous for, are very similar in size and layout. Both sleep 4 people, and have their entrance from the partly with passiflora covered courtyard. The bedrooms are on the ground floor and in the summer nice and cool because of the thick granite walls. The large living / dining room is on the first floor, as is the kitchen. The light and airy, yet comfortable furnishings are in pleasant contrast with the robust architecture.
Casa do Forno is very spacious for just 2 or 4 people. It is named after the original stone breadoven in the kitchen. The entrance is also in the partly with passiflora covered courtyard. This house has a private garden and patio at the back, where you can have your breakfast or enjoy a glass of wine in the late afternoon sun.
Casa da Borboleta, the former main house, is the largest of the four. It offers every amenity and ample space for 6 people. The furnishings are a tasteful mix of modern and antique.
The quinta is in Geraz do Minho, a part of the municipality of Póvoa de Lanhoso. In the centre of Póvoa (± 6 kms) are shops, restaurants, banks, a post office and a weekly market. The most important place of interest is the 12th century castle.
At walking distance is a restaurant that produces good, local food, and in the neighbouring village of São João de Rei you will find O Victor, a restaurant famous for its bacalhau and vitela assada.
The distance to the city of Braga is 17 km, to Guimarães (Unesco World Heritage) 25 km, and to the Portuguese National Park Peneda-Gerês also about 25 km.
In the low and mid season other changeover days after consultation.
The security deposit is € 150.
Cleaning is included, once per week starting 2nd week.
Pets are not allowed.
Indoors smoking not allowed.
Not suitable for wheel chairs.
Prices include: see page Terms and conditions.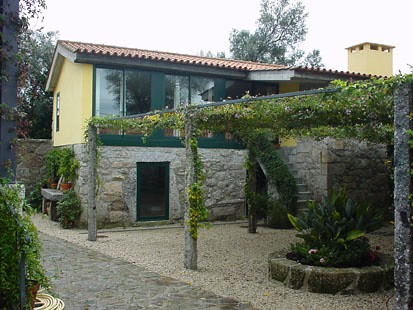 To book this house or for further enquiries, please use the enquiry form below.
Alternatively you can contact us at:
Email:  info@casas-da-cabreira.com
Telephone:  (+351) 934 825 227
Information on the way we work
Booking
To book one of our properties simply send us an e-mail with the following details:
Your full name, address and mobile telephone number;
The name of the property of your choice;
The period (date of arrival and date of departure);
The number of people (adults and children, plus ages of the children);
The number of rooms (if applicable);
Additional information, such as the use of a cot.
We will send you thereupon by e-mail a confirmation with directions for payment. At request we will send you a written confirmation by mail as well.
The deposit
Payments can be made in Euros by an international bank transfer. You can also pay through Paypal, in which case we will make a 2% charge as a contribution to the costs incurred.
As soon as we receive your down payment, we will send you a confirmation by e-mail, including detailed directions to the property.
Confirmation
As soon as we receive the balance of the payment, we will send you a confirmation by e-mail. In this message we will ask you to let us know – not later than 2 days in advance – the time of arrival, so we or the owner can be on time to welcome you and hand over the keys.
The day of your arrival
On the day of your arrival we or the owner will be at the property at the time you agreed upon. If you expect to arrive later, for instance because your flight is delayed, please let us know as soon as possible.
If we ourselves cannot be at the property on the day or time of your arrival, we will try to come by one of the following days. Of course you won't need to stay in, waiting for us, so if we don't meet and you do have questions, don't hesitate to call us.
Information on shops , restaurants, sight seeing…
For all our properties detailed information is available on shops, restaurants, wine, sight seeing, but also on hospitals, pharmacies, banks, etc. In some cases you will find the information in the house, in other cases we will send it to you together with the confirmation of the payment of the balance.
Afterwards: your opinion?
It is your holiday, so we won't bother you with a long questionnaire. But we would greatly appreciate if you could send us an e-mail afterwards, telling us what you thought of the organization and the property.