Apartment 1 – Casa Pequenina
Living/dining room with woodburning stove. Fully fitted kitchen.
2 Double bedrooms. Bathroom. Small garden.
Apartment 2 – Casa da Eira
Living/dining room with open fireplace. Fully fitted kitchen.
2 Bedrooms (1 double, 1 twin). Bathroom. Large patio.
Apartment 3 – Casa do Heido
Living/dining room with woodburning stove. Fully fitted open kitchen.
3 Bedrooms (1 double, 1 twin, 1 double with ensuite bathroom). Bathroom.
Apartments
Each apartment has TV, dvd-player, dishwasher, microwave oven, washing machine, cot (at request) and airco (hot and cold). The apartments 1 and 2 share a fixed barbecue.
General
Swimming pool.
Large garden and lawn.
Wi-fi Internet.
Parking.
Quinta do Meira is a large restored farm, set in a rural area not far from Póvoa de Lanhoso. Here you can enjoy the country life, with all the conveniences of a small provincial town at walking distance.
Clustered around the inner yard there are 3 very comfortable apartments. Two of the apartments (numbers 1 and 2; each sleeping 4 people) have their entrance at the back. The third (sleeps 6) is accessed from the inner yard. All three are richly furnished and have every amenity.
Through the inner yard or around the house you have access to the garden and swimming pool (17x6metres). In the garden are all sorts of fruit trees, ancient olive trees, and at several spots stone tables and benches. Bordering the garden is the owners vineyard.
Póvoa de Lanhoso is an excellent starting point to explore Northern Portugal. The driving time to the historic cities of Braga and Guimarães (Unesco World Heritage) and the impressive national park Peneda-Gerês is about half an hour. The beaches and golf courses near Esposende are less than an hour's drive away.
The distance to the centre of Póvoa is about 1 km. There you will find all kinds of shops, super markets, a choice of restaurants, cafés, banks, a health care centre, and a large weekly market. The most important places of interest are the 12th century castle that you can also see from the quinta, and the reconstructed castro (prehistoric settlement).
Apartment 1 - Casa Pequenina
Apartment 2 - Casa da Eira
Apartment 3 - Casa do Heido
The minimum stay is 1 week in the high season and 3 days in the low season.
The day price for each extra day from the 2nd week = week price / 7.
Baby bad available on request
Pets are not allowed.
Weekly cleaning is included.
Not suitable for wheel chairs.
Prices include: see page Terms and Conditions.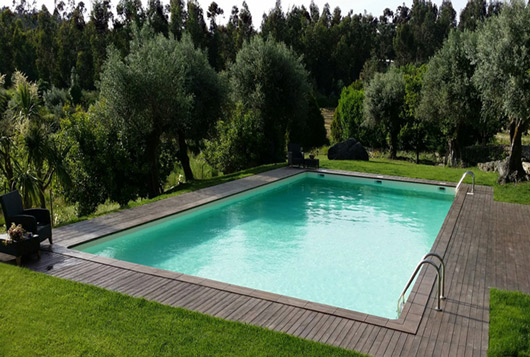 To book this house or for further enquiries, please use the enquiry form below.
Alternatively you can contact us at:
Email:  info@casas-da-cabreira.com
Telephone:  (+351) 934 825 227
Information on the way we work
Booking
To book one of our properties simply send us an e-mail with the following details:
Your full name, address and mobile telephone number;
The name of the property of your choice;
The period (date of arrival and date of departure);
The number of people (adults and children, plus ages of the children);
The number of rooms (if applicable);
Additional information, such as the use of a cot.
We will send you thereupon by e-mail a confirmation with directions for payment. At request we will send you a written confirmation by mail as well.
The deposit
Payments can be made in Euros by an international bank transfer. You can also pay through Paypal, in which case we will make a 2% charge as a contribution to the costs incurred.
As soon as we receive your down payment, we will send you a confirmation by e-mail, including detailed directions to the property.
Confirmation
As soon as we receive the balance of the payment, we will send you a confirmation by e-mail. In this message we will ask you to let us know – not later than 2 days in advance – the time of arrival, so we or the owner can be on time to welcome you and hand over the keys.

The day of your arrival
On the day of your arrival we or the owner will be at the property at the time you agreed upon. If you expect to arrive later, for instance because your flight is delayed, please let us know as soon as possible.
If we ourselves cannot be at the property on the day or time of your arrival, we will try to come by one of the following days. Of course you won't need to stay in, waiting for us, so if we don't meet and you do have questions, don't hesitate to call us.
Information on shops , restaurants, sight seeing…
For all our properties detailed information is available on shops, restaurants, wine, sight seeing, but also on hospitals, pharmacies, banks, etc. In some cases you will find the information in the house, in other cases we will send it to you together with the confirmation of the payment of the balance.
Afterwards: your opinion?
It is your holiday, so we won't bother you with a long questionnaire. But we would greatly appreciate if you could send us an e-mail afterwards, telling us what you thought of the organization and the property.